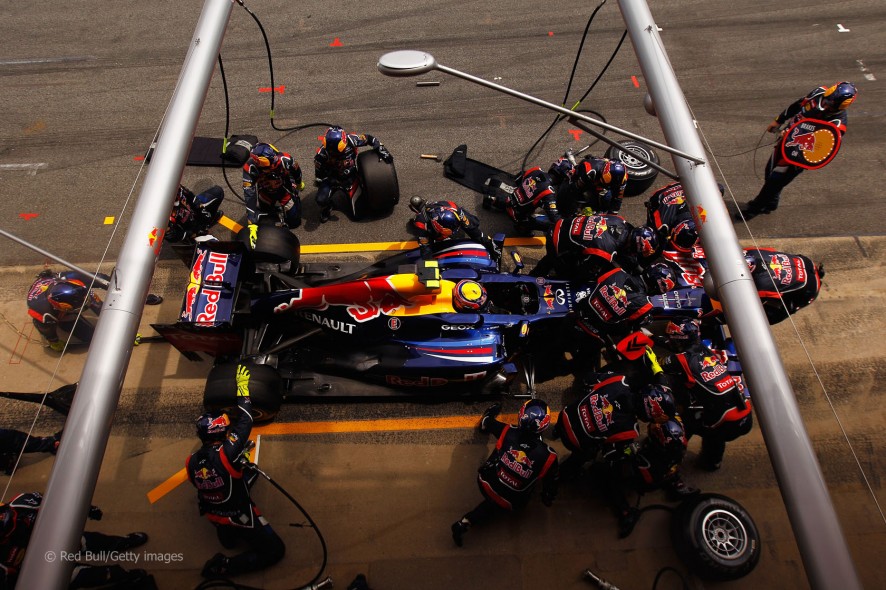 Het team van Red Bull Racing haalde tijdens de Grand Prix van Spanje beide coureurs binnen voor een neuswissel. De oorzaak of achterliggende gedachte is onbekend, ook bij de rijders zelf. Sebastian Vettel en Mark Webber begrijpen zelf niet waarom hun neus werd gewisseld.
Hun race werd er behoorlijk door beïnvloed, maar een verklaring vanaf de pitsmuur bleef uit wat dus veel ruimte overlaat voor speculatie.
Vettel: Ik dacht niet dat ik schade had aan de neus, maar het voelde echter wel beschadigd of dat er iets klem zat in de voorvleugel, bijvoorbeeld een stuk rubber of iets dergelijks. Dat verpest de aerodynamica, maar ik was niet zeker en probeerde het nog een ronde. Het voelde niet juist en dus besloten we om de neus te vervangen. Daarmee verloren we nogal wat tijd, maar het pakte wel goed uit. Na afloop zeiden ze me dat de vleugel linksvoor gebroken was. Ik weet niet hoe dat komt, ik heb niets of niemand geraakt.
Voor Webber pakte de neuswissel duidelijk minder goed uit. De Australiër zat door de wissel vast in het verkeer en raakte de laatste kans op een puntje kwijt aan Nico Hulkenberg van Force India.
Ik heb geen idee waar ik schade aan mijn voorvleugel zou hebben opgepikt, maar ik moest naar binnen voor een nieuwe neus. Dat kostte me veel tijd, niet alleen de stop, maar ook de ronden daarvoor. En dan ben je uit positie, dus moet je continu banden sparen en kan je niet zomaar anderen passeren. Dat vreet namelijk banden en als je dan teveel grip verliest, dien je een extra pitstop te maken. Ik raakte geheel uit positie [voor de punten] door wat er met de neus en voorvleugel gebeurde., aldus Mark Webber.