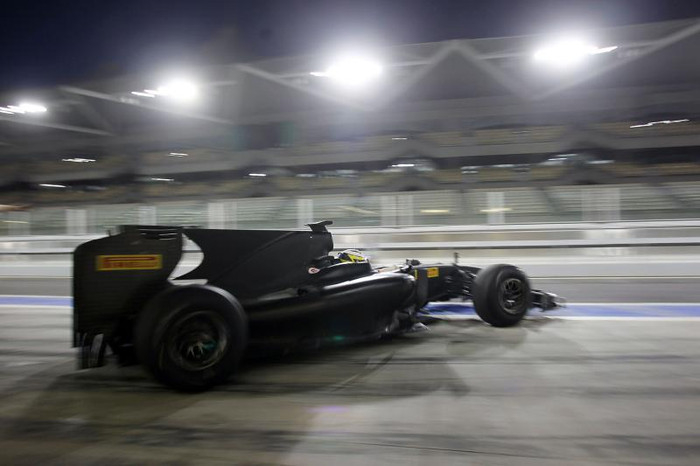 Pirelli moest eerder ontzettend veel moeite doen voor een nieuwe testwagen. Na lang onderhandelen kreeg de bandenproducent dit jaar een Renault R30 uit 2010 tot haar beschikking. Toen heerste er blijdschap en opluchting, inmiddels is gebleken dat die bolide al achterhaald is.
Dat is volgens Pirelli ook de oorzaak dat de banden van dit jaar zo onvoorspelbaar zijn.
We vinden het uiteraard niet fijn om te testen met een auto van twee jaar terug, maar het was al een enorm gevecht om onze huidige auto te krijgen. Als je vraagt wat ik echt wil dan is dat een auto van 2012, dat zou zeer relevant voor ons zijn., vertelt Pirelli's motorsportdirecteur Paul Hembery.
Hembery weet nu al dat dat laatste nooit zal gebeuren. De teams zijn te beducht voor ook maar 0,1 sec. voordeel voor het team, dat een 2011 of 2012 auto aan Pirelli zou leveren. Het heeft de vorige keer 18 maanden gekost om overeenstemming te bereiken voor het gebruiken van een auto van 2010. Voor een wagen uit 2011 of 2012 hebben we de toestemming van alle teams nodig en die krijgen we toch niet. De auto's veranderen per jaar zoveel, en dan heb ik het over precieze parameters voor de compounds.
Het zijn ook de huidige F1-teams, die nadeel ondervinden van het feit dat Pirelli geen recente auto heeft. Volgens Hembery is de excessieve bandenslijtage namelijk deels veroorzaakt door het verschil tussen de ontwikkelingsauto uit 2010 en de huidige 2012 bolides.
Dezelfde band op de auto van 2010 is minder uitdagend, omdat er enkele belangrijke verschillen zijn, zoals het verdwijnen van de geblazen diffuser. Daardoor veranderde de aerodynamische balans van de auto. Dat is belangrijk omdat het de energie beïnvloedt die door de banden heen gaat. Dat konden we niet zien op de auto van 2010. We merkten het pas op bij de auto's voor dit seizoen.