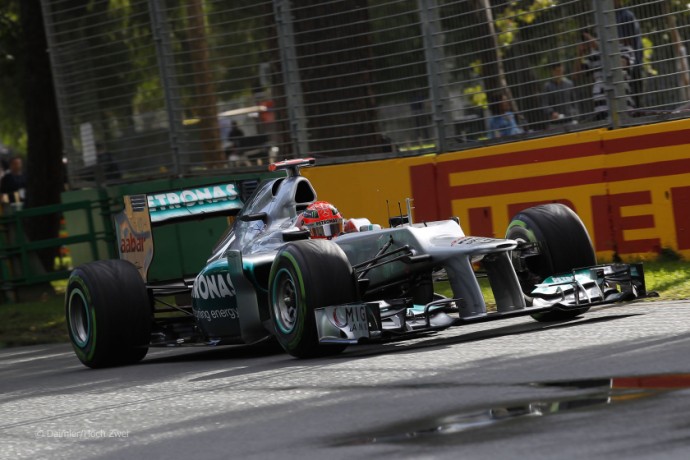 De achtervleugel met geïntegreerde F-duct waar Mercedes mee rijdt, wordt gezien als de meest vindingrijke vondst van het seizoen. Teambaas Ross Brawn ontkent niet dat het onderdeel voordeel geeft, maar volgens hem is het behaalde voordeel niet zo groot als wordt gedacht. Dat zei hij gisteren op een persconferentie in Melbourne.
Ik ga natuurlijk niet in details treden over wat men de F-duct noemt. Het verbaast me dat ze dat zo noemen, omdat ik zelf niet precies weet wat het betekent. We hebben een interessant systeem op de auto dat helemaal niet ingewikkeld is, dus ik weet zeker dat andere teams er naar zullen kijken en besluiten of het de moeite waard is.
Het is echter niet van dezelfde orde als het diffuserconcept dat wij hadden [in 2009, toen voorganger Brawn GP dankzij de dubbele diffuser de titel kon winnen] of zelfs maar de uitlaten van de auto's van de laatste paar jaar. Het is natuurlijk wel handig, daarom doen wij het ook, maar het levert geen gigantische prestatiewinst op., aldus de 'downplayende' teambaas.